CCAvenue Wins Accolade for Social Commerce Facility S.N.I.P.
Published by Enterprise IT World | 20th July, 2016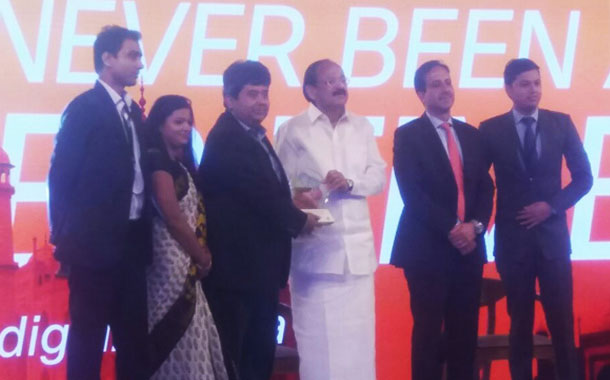 Bags award for 'Digital Innovations in the SMB sector' at the Cisco & CNBC-TV18's Digitizing India Awards for its disruptive social media payment system
Avenues India was recently honoured with an accolade at Cisco & CNBC-TV18's Digitizing India Awards, held at The Taj Palace in New Delhi. Avenues bagged the award for its flagship brand CCAvenue, under the 'Digital Innovations in the SMB sector' category for CCAvenue S.N.I.P., a social media payment system.
The Cisco Digitizing India Awards aims at recognizing organizations that are using technology in the most inclusive way to serve customers and drive digital transformation. This year, the awards program had 9 categories and was judged by an eminent panel of jury members including industry experts, business accelerators and entrepreneurs.
According to the release, CCAvenue earned recognition for its disruptive social commerce facility, CCAvenue S.N.I.P. The innovative solution makes it possible for merchants to monetize their social media presence, and set up their online business in less than a minute, at zero cost. Businesses can use the platform to sell products and collect payments instantly through a payment link on their social media pages, and also via a QR code for offline transactions. Since its launch, CCAvenue S.N.I.P. has resulted in a substantial increase in the revenue of CCAvenue merchants and also multiplied their customer base. The service processed payments close to Rs. 1,000 crore in the FY '15-'16 and is availed by more than 15,000 merchants presently.
The award was presented by M Venkaiah Naidu, Union Minister of Information and Broadcasting. Speaking on the occasion after receiving the award, Vishwas Patel, CEO, Avenues Group commented, "India has the world's largest youth population, with 41% people below the age of 20. Most of them are active on social media. Although these sites are good at creating product awareness, they are inadequate at converting eyeballs into sales. So, we created CCAvenue S.N.I.P. Through this service, SMBs, micro-entrepreneurs, work-from-home professionals are now selling products and collecting payments through Facebook, Twitter, WhatsApp, and so on. The solution is in line with the government's Digital India campaign and supports budding entrepreneurs in moving their businesses to the digital space. We want to thank the jury and organizers at Digitizing India Awards for this recognition. The award will further inspire CCAvenue in developing the best-in-class solutions backed by state-of-art technology to increase the earning potential of its merchants."