CCAvenue proclaimed winner of 'Best Implementation of Technology' Accolade at the Inn Tech Awards 2020
20th November, 2020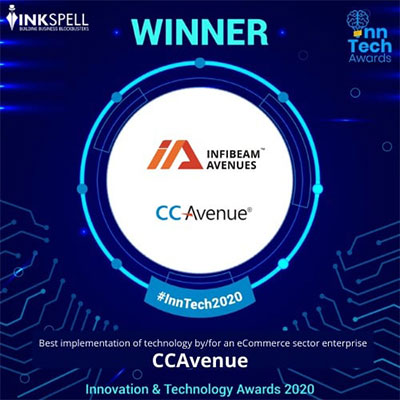 Infibeam Avenues' payment platform CCAvenue gets honored for excellence in digital payment solutions with the much acclaimed Inn Tech Award for 'Best Implementation of Technology for An Ecommerce Sector Enterprise'. The Gold Award was presented in recognition of the importance of innovation and technology through a Virtual Awards Ceremony that was held on November 20th, 2020.
Inn Tech Awards identifies and acknowledges exemplary performance by enterprises in various fields and sectors. The organization determines the significance of technology in evolution of the environment that we coexist in. Its establishment was initiated by the producers of globally appreciated events such as Drivers of Digital, Masters of Modern Marketing, vIDEA, and India Content Leadership. This ceremony was majorly aimed at rewarding technology solution providers, vendors, enablers, facilitators, etc. for providing specialized services to their clients.
Known for its contactless payment solutions that are fast, secure and reliable, CCAvenue has retained a leading position in the digital payments ecospace. Throughout the years, CCAvenue has continued to provide instant support to merchants for their functions such as Operations, Finance and Tech support through its advanced user interface and innovative technology. Its top-notch solutions are designed to cater to eCommerce, Banks, hospitality, education and various other sectors.
Earlier this year the digital payments aggregator has already won a few more prestigious titles including 'Payments Enterprise of the Decade' accolade at The Decade Awards 2020, 'Best Digital Payment Processor' at IAMAI's India Digital Summit 2020, 'Most Innovative Payment Service Provider' and 'Fastest Growing Online Payment Service Provider' accolades at the International Finance Awards, and 'Best Digital Payment Facilitator' award at the 2nd Annual Digital Payments Summit 2020.
Remarking on the achievement,
Mr. Vishwas Patel, Executive Director of Infibeam Avenues Limited
and Founder of CCAvenue mentioned: "On behalf of Team Infibeam Avenues, I sincerely thank the organizers and jury members of the Inn Tech Awards for bestowing us with this honor. We feel great pride in accepting this prestigious award, which is an appreciation of the achievements of our company in the ecommerce space. This recognition will inspire CCAvenue further, and we shall continue to develop and offer even more cutting-edge payment solutions."
About CCAvenue

CCAvenue, the flagship brand of Infibeam Avenues Limited, is a PCI DSS 3.2.1 compliant payments platform for eCommerce businesses in India. The organization serves a clientele of approximately 1.3 lakh merchants spread across verticals such as Retail, Travel, Real Estate, Telecommunication, Government departments, and Utility billers, Hospitality, Education and Healthcare. It assists merchants to accept online payments through a spectrum of new-age payment options including 6 major Credit Cards, 98+ Debit Cards (All MasterCard / Visa / Maestro / RuPay Cards), Amex EzeClick, 58+ Net Banking, Mobile Wallets, UPI and up to 15 Multi Bank EMI options.