CCAvenue On Award Winning Spree, Bags Accolade For Best Innovation in eCommerce Payment at Franchise India's E-Retail Awards 2019
30th April, 2019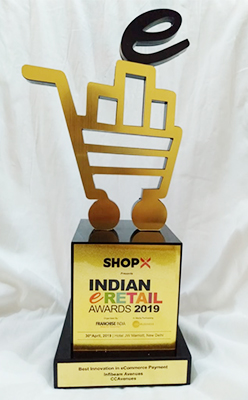 In a glowing tribute to its role as a key catalyst of growth of Indian eCommerce, CCAvenue was declared the winner for 'Best Innovation in eCommerce Payment' for the fourth consecutive year at the E-Retail Awards. The award ceremony was held at the JW Marriott Hotel, New Delhi on 30th April 2019, as part of the 8th Annual Indian Retail & e-Retail Congress organized by Franchise India. Mr. Pranjal Pandey and Ms. Neeta Kapoor, the Marketing Managers based in Delhi, accepted the award on behalf of Infibeam Avenues, the parent entity of CCAvenue.
The 8th Annual Indian Retail & e-Retail Awards acknowledges the achievements of India's most successful retailers, e-retailers and brands across multiple categories in terms of business performance, customer experience, innovation and leadership in the retail and e-retail sectors. Furthermore, the eRetail award segment aims to celebrate the brilliance of businesses in the Indian eRetail space. The event aims to stimulate the e-commerce and multichannel retail in India by enhancing the business value of the award recipients.
CCAvenue has already been adjudged winner this year at several prestigious award ceremonies. It won accolades in the Chief Risk Officer category at the Treasury, Risk & Compliance Excellence Awards as well as the Best Use of Marketing Technology category at the MarTech Awards. CCAvenue was further honored with the 'Digital Payment Facilitator-Category Leader' accolade at Mastercard's REACH Acceptance Awards held in April 2019. Other recognitions earned by CCAvenue over the years include 'The Best Digital Payment Facilitator' award twice in a row from IAMAI, 'Digital Innovations in the SMB Sector' award from Cisco & CNBC-TV18, and 'Best Innovation in Payments & Transfers' accolade at the MoneyTech 2017 Awards.
Commenting on the accomplishment, Mr. Vishwas Patel, Director of Infibeam Avenues and Founder of CCAvenue, stated: "We are thrilled to win the award for the 'Best Innovation in eCommerce Payment' at the eRetail awards for the fourth year in a row. On behalf of Infibeam Avenues, I sincerely thank the jury as well as the organizers for this important recognition. The award acknowledges our persistent efforts towards empowering Indian e-businesses with a feature-rich payment platform that incorporates the latest payment technologies while offering the maximum number of payment options available online."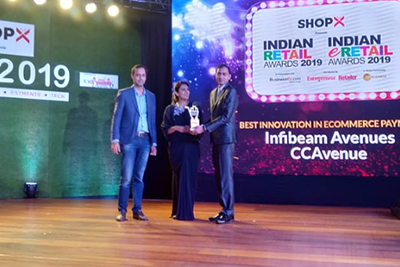 This recognition will further inspire CCAvenue to develop advanced solutions backed by cutting-edge technology aimed at accelerating the growth of eCommerce businesses in the country. CCAvenue will continue to offer business enhancing solutions that redefine user experience, improve transaction success rates and increase the earning potential of web merchants exponentially.